NASCAR SpeedPark Arcade Card
Purchase. Reload. Register.

With a NASCAR SpeedPark Arcade Card there's no need to fumble with tokens or manage tickets to have a blast playing in the SpeedDome Arcade. Simply load your Arcade Card at one of the park's kiosks, or online below. Because our card is reusable, it can be reloaded at any time for present or future game play. All winnings are stored on the card until you're ready to redeem them for prizes at our in-park Redemption Counter. Don't forget to register your card with us.
When you purchase a NASCAR SpeedPark Arcade Card, you're buying credits to play games in the SpeedDome Arcade. These credits can also be used for Hologate Virtual Reality or Mini Bowling, both of which are not included with Unlimited Ride Wristbands. Each game requires a specific number of credits for play.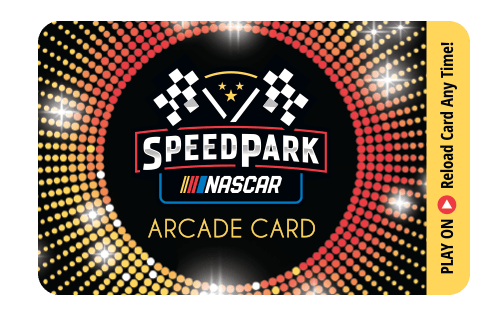 Many games offer opportunities to win points. Points can be redeemed at our Redemption Counter in the SpeedDome Arcade for prizes or stored on your Arcade Card for future visits.
EARN BONUS CREDITS WITH MOST PURCHASES